Electrical Apprenticeship in Columbus, Ohio
Advance your skills with the specialized programs from IEC Central Ohio. Our electrical apprenticeship training in Columbus, OH, includes on-the-job training and related technical instruction in the classroom. Speak with us today to discover how our technical training can help you further your career.
Electrical Apprenticeship: "The Other Four Year Degree!"
Apprenticeship is a form of education that incorporates workplace training with technical in-school training. For more than 35 years, our company has conducted apprenticeship training under standards approved by the U.S. Department of Labor, turning out the very finest of electricians into the Central Ohio workforce and beyond. Many of our graduates serve the trade and community as electrical contractors, giving back to their trade by employing and helping to oversee the education of apprentices entering the electrical trade.
Why Choose the IEC Electrical Apprenticeship Program?
With all of the options available in technical training, it is important to choose the right one. We are recognized and authorized to train by Veteran's Administration, and veterans may recoup training funds while participating in an apprenticeship.
Have the right connections when you use our electrician courses an electrical apprenticeship training. IEC Training is recognized by employers throughout the United States as top of the line, with more than 18,000 apprentices participating annually. A dedicated staff of professional instructors assists with moving apprentices through the program.
Through an intensive review process, The American Council of Education (ACE) established the IEC apprenticeship program for electrical construction workers provides college-level instruction. Apprentices earn college credits as part of their technical training.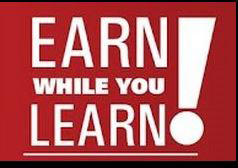 Technical Training
Apprenticeship is a classroom technical education training that consists of lectures, demonstrations, labs, homework, and a comprehensive final that must be passed prior to advancing to the next level. All apprentices complete a minimum of 2,000 hours of on-the-job training per year, administered by Independent Electrical Contractors.
With a growth rate in excess of 20% per year, IEC's electrical apprenticeship training program is rapidly becoming recognized as the premier electrical apprenticeship program in the industry. Through this combination of education, training, operation, and code, they also develop management and leadership skills.
Become a Certified Electrician
Gain life-long trade skills and give yourself a competitive advantage in the job market with our training. We provide quality educational services and opportunities for interviews with local members and/or employers of your choice. During the program, apprentices receive well-balanced and thorough classroom instruction. Topics covered include: residential, commercial, industrial wiring, blueprint reading, applied mathematics, electrical theory and design, motor controls, fiber optics installation and operation, fire alarm installation, programmable logic, and many other electrical topics. Hands-on lab instruction is included.
Apprentices increase their earnings substantially in just four years. Contact Us to find out more about your personal opportunity.